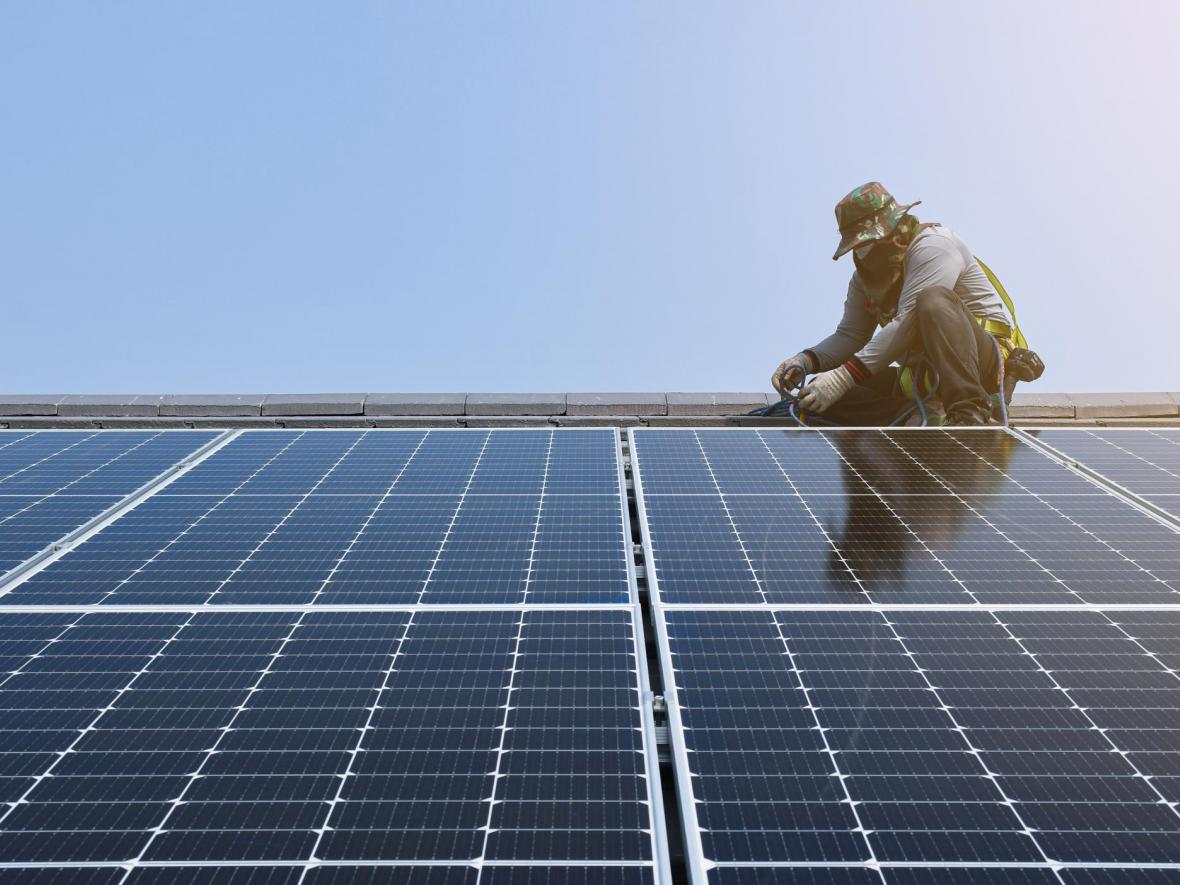 Get the most out of your solar energy system!
Schedule solar panel maintenance.
For such an advanced piece of technology, solar PV panels are surprisingly low-maintenance. They have very few moving parts, almost never need to be cleaned, and typically last for upwards of 20-25 years without any issues.

Still, there are occasions when things go wrong. At Energy Solution Providers, we want our customers to get maximum value from their solar panels for as long as possible. If an issue ever arises that gets in the way of that, we will be here to help with professional solar panel maintenance and repair services for residential and commercial solar systems. 
WE'LL KEEP YOUR SOLAR ENERGY SYSTEM OPERATING AT PEAK PERFORMANCE

 
Although your solar panels don't need maintenance very often, it's a good idea to have them checked out once every two to five years. Scheduling a service visit or signing up for our annual service maintenance plans will give you peace of mind knowing that your solar PV system is generating as much electricity as possible and that you aren't missing out on any electric bill savings.   
If you suspect a problem with your solar panels or solar batteries, or if your monitoring system alerts you to an issue, give Energy Solution Providers a call. We will send an expert technician to inspect your PV panels and run a system assessment. If we discover a problem, we'll recommend the right solar panel repair service to fix it. 
Some of the many solar maintenance and repair services we can help with include:
System troubleshooting 

Inverter repair and replacement 

Panel repair and replacement

Electrical wiring repair 

Nest removal and critter guard installation 

Solar panel cleaning 
The Enphase microinverters that we install allow for individual panel monitoring, making it easy to keep tabs on your system's production and recognize dips in performance right away.
Enphase and SolarEdge 3G Modem Replacement
As 3G networks are phased out in favor of faster and more reliable 5G, so will the modems that Enphase and SolarEdge inverters use. Energy Solution Providers offers 3G modem replacement so you can continue to monitor and optimize free, renewable energy for your home.
Solar Panel Removal for Roof Repair & Replacement  
Solar panels last for so long that your roof may need work before your solar energy system needs to be replaced. If you have rooftop solar panels and your roof needs to be repaired or replaced, Energy Solution Providers can safely remove your solar panels and reinstall them when the roofing work is done. 
Our team will coordinate with your roofer to ensure the panels are removed efficiently, preventing unnecessary delays in your roofing project. When the roofers are done, we'll reinstall your panels quickly so that your system isn't down for long. 
THIRD-PARTY SOLAR INSPECTIONS
Are you looking to get a second opinion on your solar installation? Energy Solution Providers provides third-party solar inspections so that you can be sure your system is set up for success. We can assess the solar energy potential of your home and inspect all electrical and structural work to give you peace of mind that your investment will stand the test of time here in Arizona. 
We Service All Types of Solar Panel Systems 
Energy Solution Providers has been installing solar panels in Arizona for over 20 years and we've completed more than 5,000 installations. If you are looking for a solar installer near you in Florence, Phoenix, or Casa Grande to help with solar panel maintenance, contact us today. We service residential and commercial solar panels, including grid-tied and off-grid systems, as well as systems that we did not originally install.
Whether you're concerned about your system's performance or just want to make sure everything is working properly, we are here to help with all of your solar panel maintenance and repair needs.
Need help with solar panel maintenance? Call 520-868-0700 or contact us to schedule a service call!