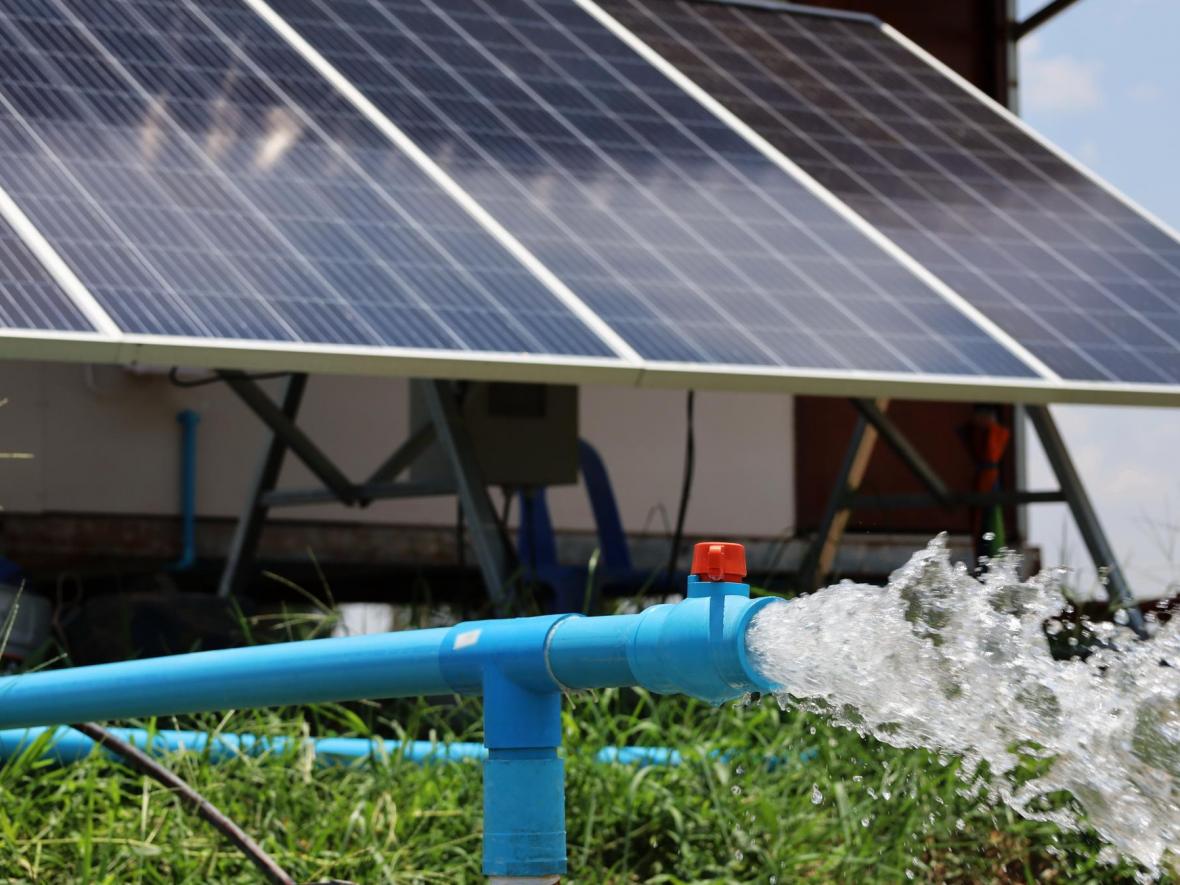 Run your water pump with free, renewable energy.
Install a solar water pump today.
Solar water pumps are an excellent alternative to electric and gas-powered pumps for remote and off-grid farms, ranches, and homesteads. These water pumps run exclusively on clean, renewable solar energy and have many benefits, including: 
No external power source or grid tie-in needed 

Low (or no) operating cost 

Can be moved for seasonal changes, livestock relocation, etc. 

Reliable and efficient operation 

Minimal environmental impact 

Pair with battery backup to maintain well and water pump during power outages
Energy Solution Providers specializes in off-grid solar installation for Arizona homeowners and businesses. We install solar water pumps for agriculture and solar water pumps for homes and ranches, and we can help you find the right solar water pump and backup battery for your needs. Whether you want to install a stand-alone solar water pump or an entire residential or commercial solar energy system complete with water pumps, you can count on us. 
Types of Solar Water Pumps 
There are two main types of solar water pumps Arizona homeowners and businesses can install: 
Submersible Water Pump 
A submersible solar water pump is submerged in a water source such as a well, pond, or spring. The pump carries water up from the source and delivers it to a point of use or storage tank. 
Surface Water Pump
Surfaces solar water pumps are installed above the waterline. A hose is placed in the water source, and the pump carries water to a use point or storage area. 
The right type of water pump for you will depend on many factors, such as the type of water source you are pulling from, its depth, and the surrounding terrain. Energy Solution Providers will consider all of these factors and recommend the best water pump solution for your needs. 
Water Pumps with Solar Battery Backup Can Run 24/7 
Solar water pump systems run on solar energy, which means they need sunlight in order to operate. They cannot run at night or during a power outage, and performance may be limited on cloudy days. 
However, if you install a solar water pump with battery backup, you'll be able to store the excess solar energy that your system generates during the day and use it to power your water pump for all your continuous needs without interruption or the need for additional backup generators. 
Energy Solution Providers Installs Solar Water Pumps Near You in Arizona 
Energy Solution Providers installs top-quality solar water pumps in Arizona! Whether you need a water pump for irrigation, livestock watering, or residential use, we can help. We work with off-grid homeowners, small-scale farmers, ranches, homesteads, and more in remote communities throughout Arizona.
With more than 20 years of experience and 5,000+ solar installations, we are the installer to trust for reliable solar energy solutions. We offer financing, and we can help you apply for solar incentives like the federal solar tax credit. 
Install a solar water pump at your property. Call 520-868-0700 or contact us today to get a quote.