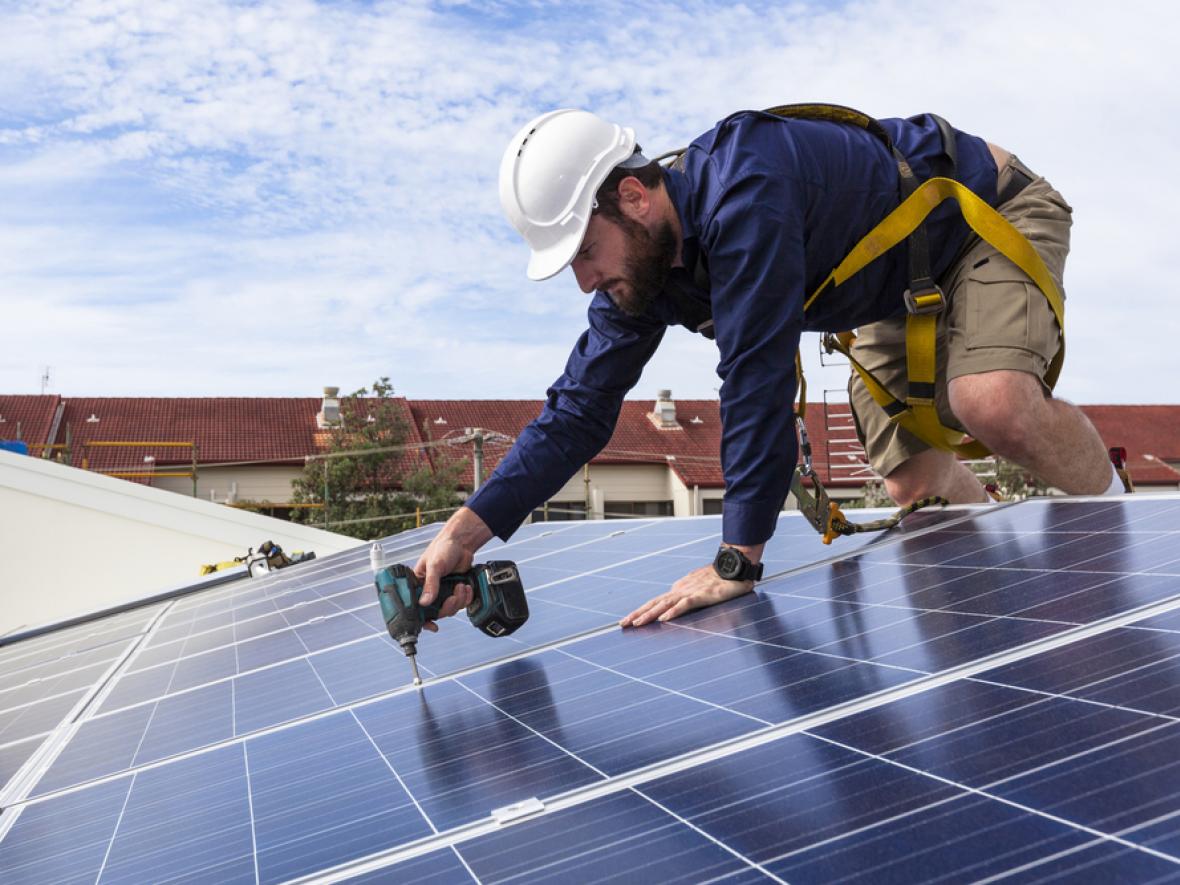 Looking to start benefiting from solar energy ASAP?
Get started with Energy Solution Providers today!
Adding solar panels to your Arizona home might be on your mind for a few reasons. You could be dealing with rising electricity costs and are looking into a cost-effective solution to high utility bills. Or, you could be interested in using more renewable energy, knowing that Arizona is one of the best states in the country for solar installation and energy production, in part because of the abundance of sunshine it receives!
So you might be wondering: If you decided to reach out to a solar company near you, how quickly could they install a residential solar energy system on your home? This is also important, if you're looking to claim the 26% federal solar tax credit in this year before it drops in 2021. 
How Long Does Solar Panel Installation Take?
At Energy Solution Providers, the typical residential solar panel system takes 2 to 5 days to install. If you're looking to add commercial solar for your company's energy supply, it can take longer—depending on the complexity and size of the system, anywhere from several weeks to over a month. Ground mounted systems will add a bit of time to the overall installation schedule as well.
But no matter what kind or size system you have, the vast majority of the work done during solar installation takes place outside of your Florence, Phoenix, or Scottsdale home or business, minimizing disruption.
What Are the Different Steps in the Solar Installation Process?
Of course, installing the actual solar panels themselves is only one part of upgrading to a solar home or business. Here are the major steps in the process and our estimate on how long each one takes:
1. Meeting with Energy Solution Providers and Signing a Contract
A representative from our team will meet with you to review your goals for solar energy, as well as inspect your property to determine the different design options available. Then, in a follow up meeting, we'll present our best suggestions for a solar design for your home and business, as well as information about the cost to purchase solar panels for your home or business and how to take advantage of solar rebates, incentives, and solar financing options. You'll also receive a contract to review and sign.
Total time: Varies—we want you to feel 100% comfortable with your decision to go solar.
2. Installation Design and Engineering
Once the contract is signed, we need to work out of all the little details. An installation technician will visit your house or business to review in detail exactly how your solar energy system will be laid out and installed, and we'll order all of the parts necessary to complete the job.
Total time: 30-45 days
3. Permits
How long local permits will take to receive will depend on the local permitting office, but once the design is finalized, our team will file the necessary paperwork for you, and keep you updated as we receive news.
Total time: Usually about 30-45 days
4. Installation
See above!
Total time: 2-5 days for residential, 20-30 days for most commercial projects
5. Inspection and Turning On Your System
After installation is complete, your system will be inspected by your local building department, and we'll conduct our own quality control review process. After inspection, your utility company will then need to give you permission to operate (PTO). But after that's done, we now have the green light to turn your system on!
Total time: 15-30 days
Total Start-to-Finish Time to Install Residential Solar Panels: approx. 80-125 days after signing contract
Total Start-to-Finish Time to Install Commercial Solar Panels: approx. 100-150 days after signing contract
One Big Reason to Start Your Solar Installation in 2020
Aside from wanting to start taking advantage of your new solar energy system as soon as possible, there's another big benefit to starting the solar process this year. While there are a number of solar incentives that Energy Solution Providers can help you take advantage of, the biggest is the solar Federal Tax Credit. For homeowners if you complete your project in 2020, you'll qualify for a federal tax credit in the amount of 26% of your total installation costs, and you'll be able to roll over any remaining balance an additional year.  For business owners, your project needs to get started in 2020 to be eligible. 
In 2021, you'll only receive a tax credit of 22%, and in 2022, that credit credit will be completely eliminated for residential solar projects, and reduced to 10% for commercial moving forward. So the earlier you act, the most you stand to save!
Reach Out to the Leading Solar Company in Arizona and Get Started Today
Upgrading to solar energy might seem confusing at first, and you may have questions, like: Should I opt for grid-tied solar or off-grid solar installation? Is adding solar battery storage important? How do solar panels work on homes? How many solar panels are needed to power my house?
At Energy Solution Providers, we're here to answer questions and provide education about the many benefits of solar. Reach out to our team today for a free solar quote, and get started on the path to clean, renewable energy for your home or business.
Solar panel installation is a breeze with Energy Solution Providers. Call 520-868-0700 or

contact us

today for a quality solar installer near you.