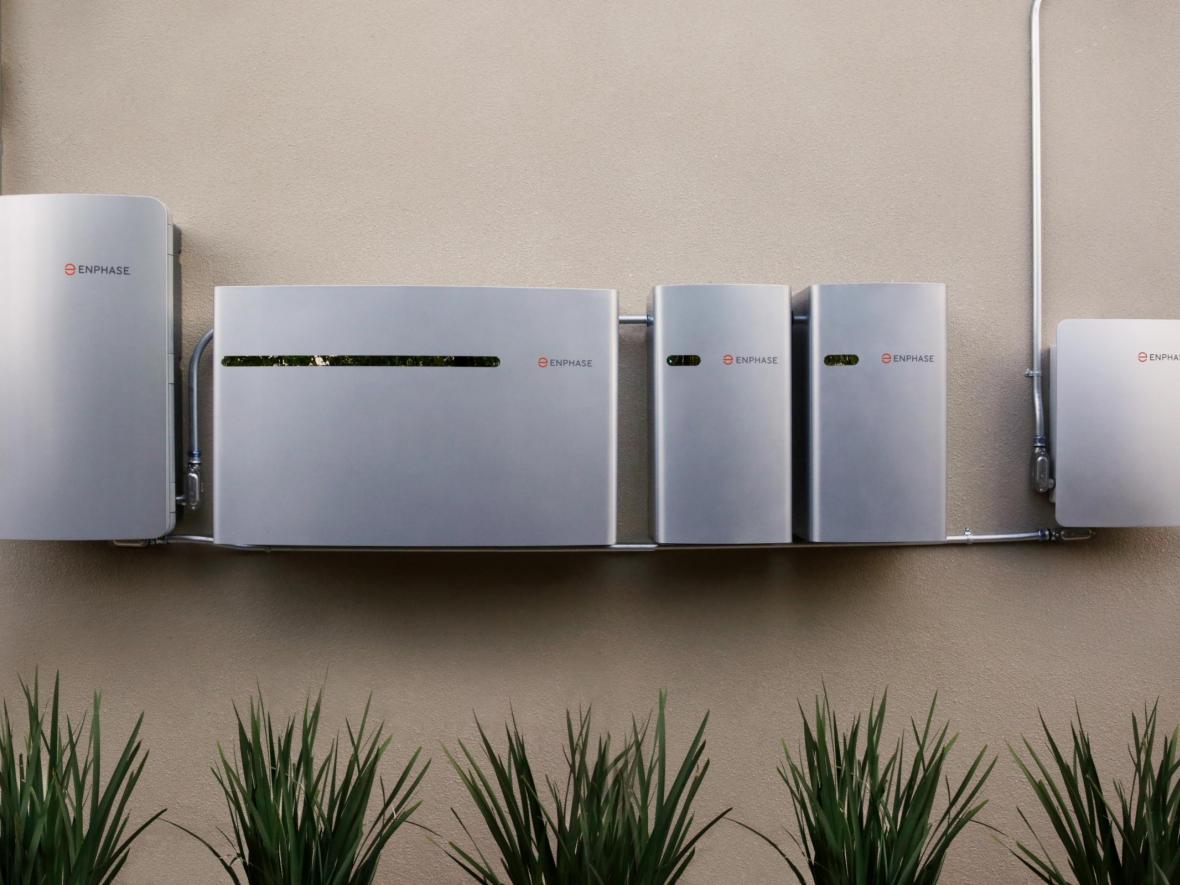 Get the best solar products for your home.
Learn more about the Enphase Energy System.
Enphase Energy Systems include revolutionary solar products that are designed to optimize energy production, storage, and monitoring. These systems have invaluable benefits for Arizona homeowners and businesses, and Energy Solution Providers is excited to be an Enphase installer. 
All the Solar Products You Need in One Complete Package 
The Enphase Energy System brings three crucial components of your solar energy system together in one, holistic package. This allows for a seamless integration and puts more power in your hands. The system includes: 
Enphase IQ Microinverters

Enphase Solar Battery Storage 

The Enphase App  
Enphase solar products are ideal for residential and commercial solar projects, and off-grid systems. 
Ultra-Smart Enphase Inverters Maximize Electricity Production 
Enphase IQ microinverters are the best solar inverters available for your solar power system. A solar power inverter transforms sunlight into safe, alternating current (AC) electricity (what we use to power homes and buildings). Enphase microinverters accomplish this feat remarkably well, and they're compatible with virtually all solar panel makes and models. 
In an Enphase Energy System, each solar PV panel is equipped with its own microinverter. This allows the panels to operate independently, so if one is shaded or malfunctions, it won't impact the entire system. 
Enphase Batteries Help You Meet Your Solar Energy Goals 
Enphase solar storage systems come in two sizes and can be combined, so you can choose the best energy storage solution for your needs. Whether you want to power your home during an outage, reduce your carbon footprint, or save as much as possible on energy bills, the Enphase Energy System can help you accomplish your specific energy goals. 
Enphase solar batteries offer safe, reliable solar energy storage and give you the ultimate peace of mind. Energy Solution Providers is a certified Enphase battery installer. Get a quote for your Enphase solar battery installation today! 
Enphase IQ8 Makes Backup Power Possible Without a Solar Battery!  
The Enphase IQ8 Microinverter with Sunlight Backup can power basic appliances, like your phones, fans, lights, or refrigerator during a daytime power outage without a solar battery. No other microinverter can do that! 
Control Your Enphase System from Anywhere with the Enphase App 
The Enphase App is the most powerful app ever created for a solar power system. You can use the app to monitor energy production, use, and storage, and see where solar power is being used in your home in real-time. During a power outage, you can use the app to direct power to essential appliances. The Enphase App is easy to use and gives you total control over your Enphase system. 
Learn More About the Enphase Energy System 
Looking for a local solar company that installs Enphase products? Talk to Energy Solution Providers today. We are a certified Enphase installer that has been serving Arizona homeowners and businesses for over 20 years. 
Dependable, affordable, renewable energy should be available to all, and we're proud to help our customers take control of their own energy production with leading solar technologies. Learn more about us and our work to see why we're a leading local solar installer in Arizona. 
Install an Enphase Energy System at your Arizona home or business. Call 520-868-0700 or contact us to get a fast, free solar quote.