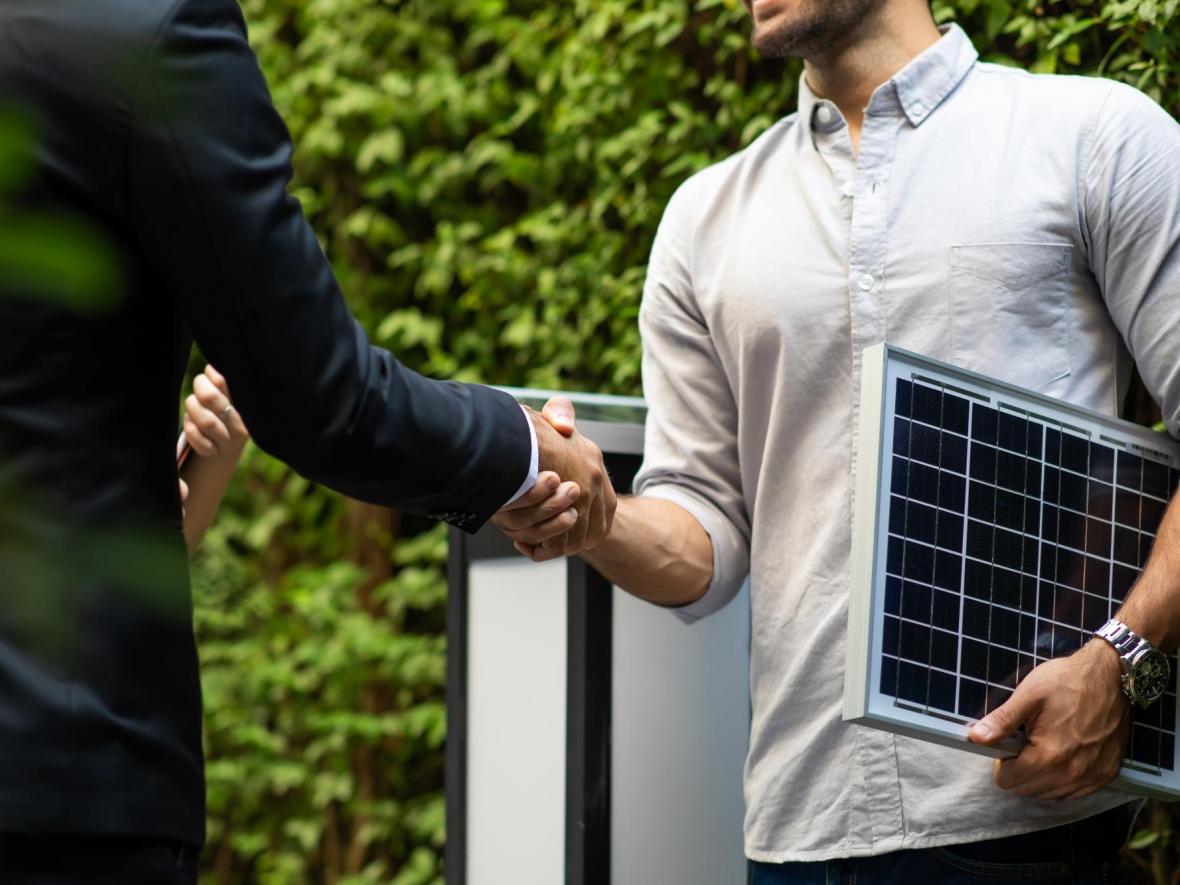 Solar energy is a smart investment for your business! 
Schedule a free consultation today. 
Thinking about installing a commercial solar system to power your business? Going solar is a smart business decision with an excellent return on investment. 
Some of the world's most successful businesses, including IKEA, Apple, and Target use solar energy to save on operating costs, earn tax credits, and contribute to a cleaner, greener environment. Join their ranks with a commercial solar panel installation and enjoy all the benefits of solar for your business: 
Cut Your Operating Costs with Lower Utility Bills 
For many businesses, electricity is a major monthly expense. As a utility customer, you're at the mercy of the electric grid and will have to deal with expensive, volatile rates to keep your lights on. With solar panels, your building becomes your own power source. The electricity you generate is 100% free so you can cut your operating costs and increase profits. 
Earn Commercial Solar Incentives & Tax Credits 
Installing solar panels for a commercial building can lead to major tax credits for your business. The federal solar tax credit lets businesses reduce their federal tax liability by 26% of their total solar installation costs in 2022. You'll need to act quickly to get this tax credit for your business, though—the solar tax credit will be reduced to 22% in 2023 and just 10% from 2024 on. 
Businesses that install solar panels can also qualify for the Modified Accelerated Cost Recovery System (MACRS), a depreciation program that helps reduce the payback period for commercial solar. 
Boost Your Public Relations 
Consumers are increasingly concerned about climate change and want to do business with companies that take their environmental responsibility seriously. Going solar demonstrates your commitment to the environment, helping to solidify your relationship with existing customers and attract new ones. 
Positioning yourself as a green business can also help you attract new employees who want to be a part of the climate solution by working for sustainable businesses. 
Avoid Power Outages with Battery Storage 
When the power goes out, business can come to a standstill. Solar batteries give you backup power so you can keep your business running when the grid goes down. With battery storage installed in the right configuration, your solar panels can disconnect from the grid during an outage and operate in island mode—without batteries, your PV system will automatically shut down during a grid outage. Solar batteries can also be used strategically to help you avoid time-of-use rates and demand response charges, helping you save even more on operating costs. 
Get Solar Panels for Your Business in Arizona 
Energy Solution Providers is the leading commercial solar company in Arizona with over 20 years of experience. We can help you take advantage of all the benefits of solar energy for your business plus Arizona commercial solar incentives with a custom solar power system. We install premium solar energy systems that deliver affordable, reliable electricity and are backed by a 25-year warranty. You deserve the best for your business and Energy Solution Providers delivers it. Call us today!