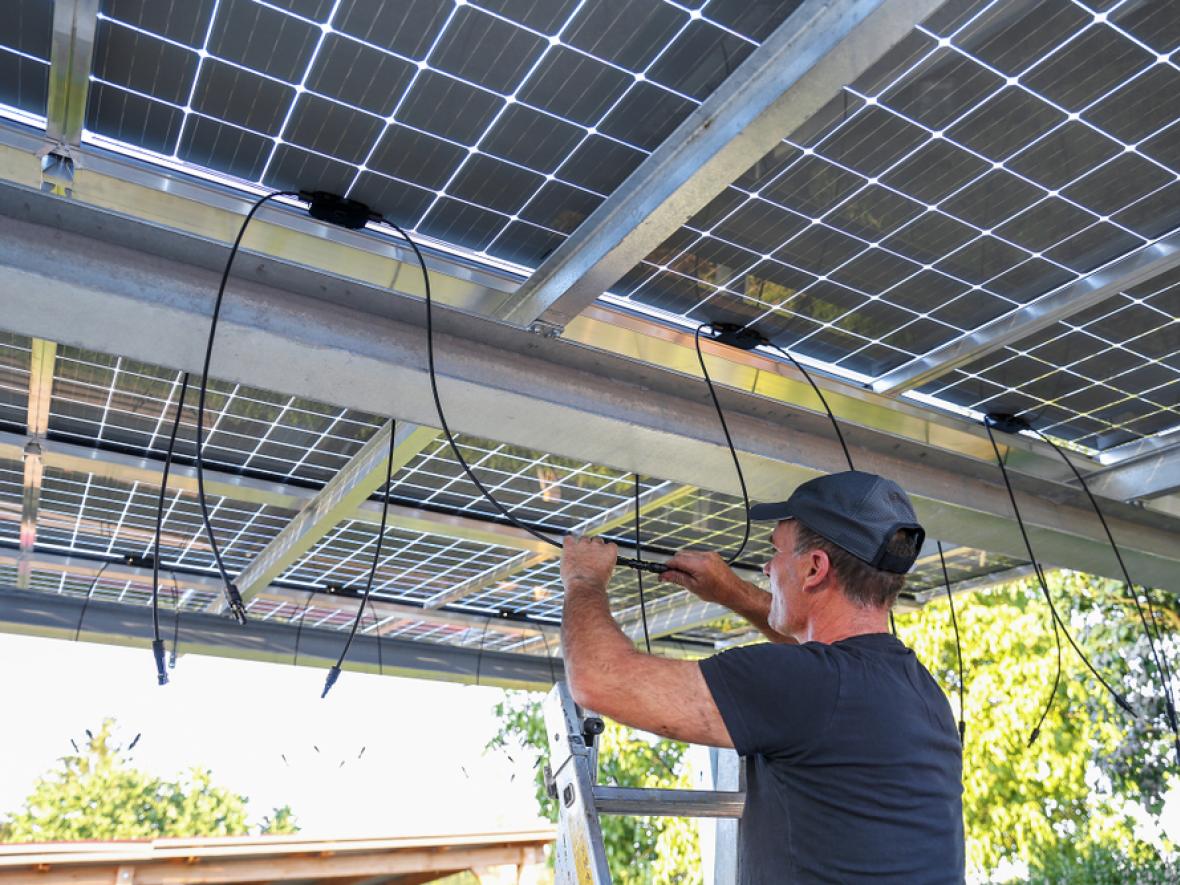 Lowering your energy bills with the power of the sun is one call away.
Our experts are waiting by the phone!
The term "solar carport" may conjure up visuals of George Jetson pulling into his garage with a flying car. And while we all can hope that we will be driving flying cars soon in another planetary solar system, that isn't exactly what "solar carport" means — for this planet anyway.
Imagine, if you can, a ground mounted solar array next to your home with the solar panels angled perfectly to take advantage of the peak sunlight hours and supplement your home with clean, renewable energy. Now, imagine if you simply raised those solar panels up, high enough that you could park your car underneath them. Function meets function!
Solar Carports: Made in the Shade
Ironic isn't it, that something that is so dependent on the power of the sun can also provide shade? That's exactly what a solar carport is. Installing a solar carport likely does not require any additional space then what you already use and provides your vehicle with protection from both the sun and rain.
Plus, with the energy-producing power of a solar photovoltaic system, your home can experience the benefits of solar:
Reduced monthly energy bills

A smaller carbon footprint

Increased home value

Protection from energy cost hikes
Charge Your Electric Vehicle
If you've invested in an electric car, you've no doubt enjoyed not spending all your hard earned cash at the pump. But if you charge your car at home, you've likely seen your energy bills go up.
What's more, if you take a zero emission vehicle and plug it into an electricity grid with dirty fossil fuel power plants – it is no longer a zero emission vehicle. Your electric car can only be as clean as its power source! So a solar carport offsets the cost of charging your electric vehicle, and keeps the electricity it runs on clean.
Let's do the math: If the average cost per kilowatt hour (kWh) in Arizona is 12 cents and your electric car uses an average of 30 kilowatt hours per 100 miles, that's $1.20 per 100 miles you drive. If you drive 13,000 miles in a year, that's $1.20 x 1,300= $1,560. So, by charging your electric car with the renewable energy harnessed by your solar carport, you are saving an average of $1,560 per year!
Going Solar with Energy Solution Providers
For over 16 years, Energy Solution Providers has been paving the way for solar energy in Arizona. We have installed and designed many of the first solar electric systems across the state, with the goal of exceed our customer's expectations. You can trust our experts to install a solar carport that fits your exact energy and design needs, with outstanding and personalized customer service from start to finish.
Looking to harness the renewable power of the sun and protect your car from the elements with a custom designed solar carport? Get in touch with the solar installation experts a Energy Solution Providers by calling 520-868-0700 for your free solar quote!