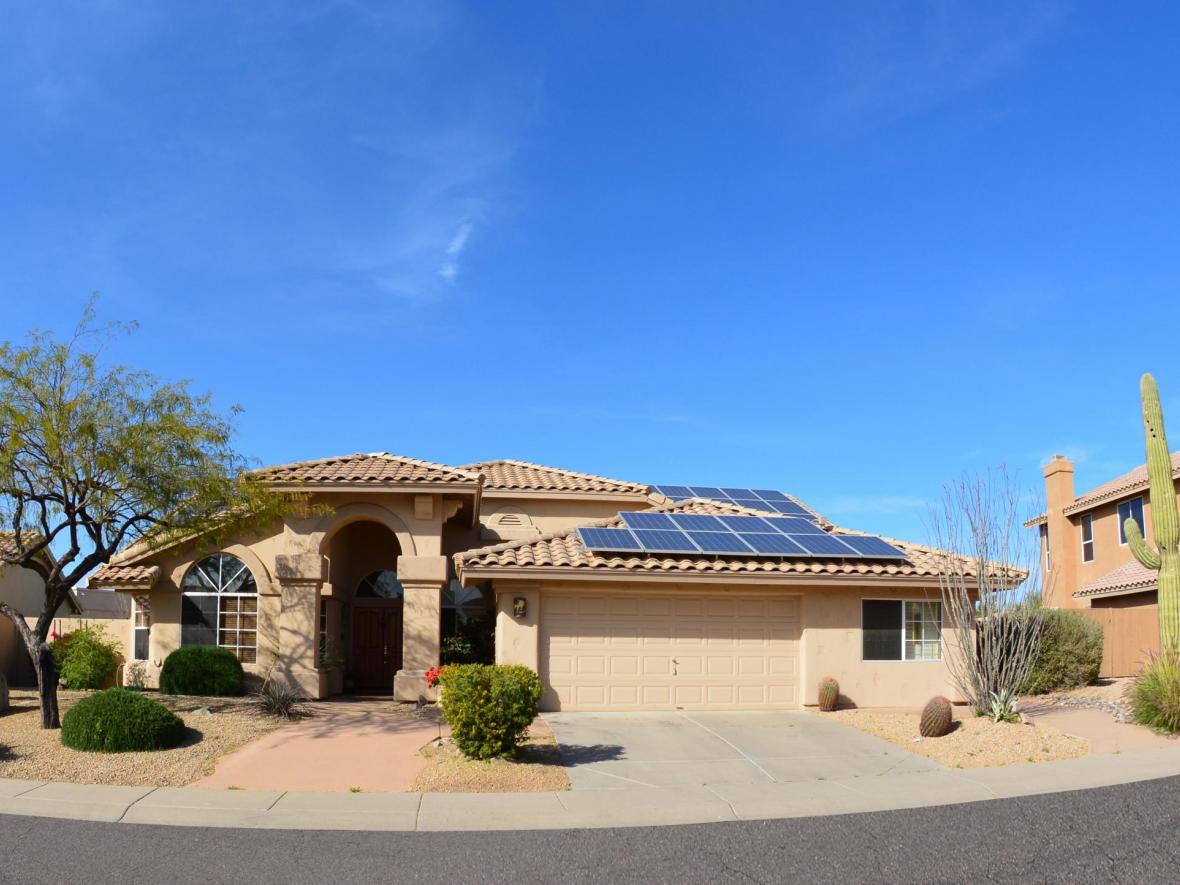 Stay cool this summer with solar panels!
Get a fast free solar quote today.
Residential solar electric systems are known for their unique ability to harness the sun's energy and generate free and renewable electricity that your home can use, especially during the summer when the days are longer and sunlight is abundant. You've probably heard that a rooftop solar system can help you lower your utility bills, but did you know solar panels keep your house cooler, too? 
Here's a look at how rooftop solar panels reduce heat and help keep your home in Arizona cool—even when temperatures are at their hottest.
Solar Panels Reflect Heat Away From Your Roof 
Some believe that solar panels will heat up your roof, but this couldn't be further from the truth. 
Solar panels are made from materials like glass, silica, metals, and plastics, which are able to reflect heat from the sun's powerful rays. These materials are considerably more reflective than traditional roofing materials like asphalt shingles. In fact, according to a recent study conducted by the University of California, San Diego, the reflective materials—coupled with the fact that panels are typically raised from the roof's surface—allow solar panels to reduce heat absorption on a roof's surface by up to 38%.
Solar Panels Reduce Attic Temperature 
By reflecting heat away from your roof, solar panels reduce attic temperature and keep your attic much cooler. This means that the living spaces below your attic will also stay cooler during the summer. 
Homes with rooftop solar panels see a 5-degree temperature drop in the attic and other upper living areas on average. As a result, homeowners feel more comfortable inside their homes and don't need to run your AC system as often, leading to summer energy bill savings. 
Solar Panels Help You Save on Summer Cooling Bills
Another primary solar benefit is the electric bill savings you'll experience by going solar. This is especially true in the summer when the days are longer and your solar power system is able to generate a lot of electricity to power your air conditioner and other appliances. A solar energy system can reduce your utility bills, or even eliminate them completely, depending on system size.
Summer is a time when utility rates are typically higher and you need to run your air conditioner all day long, making solar an especially valuable investment for the free electricity it generates. With solar panels on the roof of your Arizona home in the summer, you can set your thermostat to the temperature you and your family like, rather than just what your wallet can handle. If you add solar battery storage to your system, you can even use solar power to run your air conditioner at night, helping you save even more on energy costs.  
Stay Cool with Solar Panels for Your Arizona Home 
If you live in Maricopa, Pinal, or Pima County in Arizona, solar is a great option for keeping your home cool while offsetting the cost of air conditioning. 
Energy Solution Providers can help you take advantage of all the benefits of solar. We're a leading solar provider near you in Arizona with more than 20 years of experience installing residential and commercial solar systems. Our experts are here to answer your questions about making the switch to solar power and will help you navigate the solar panel installation process at every step. We install all types of solar power systems, including ground-mounted and off-grid solar.  
Stay cool with a solar installation for your AZ home. Call 866-366-5883 or contact us to get a free solar panel cost estimate!