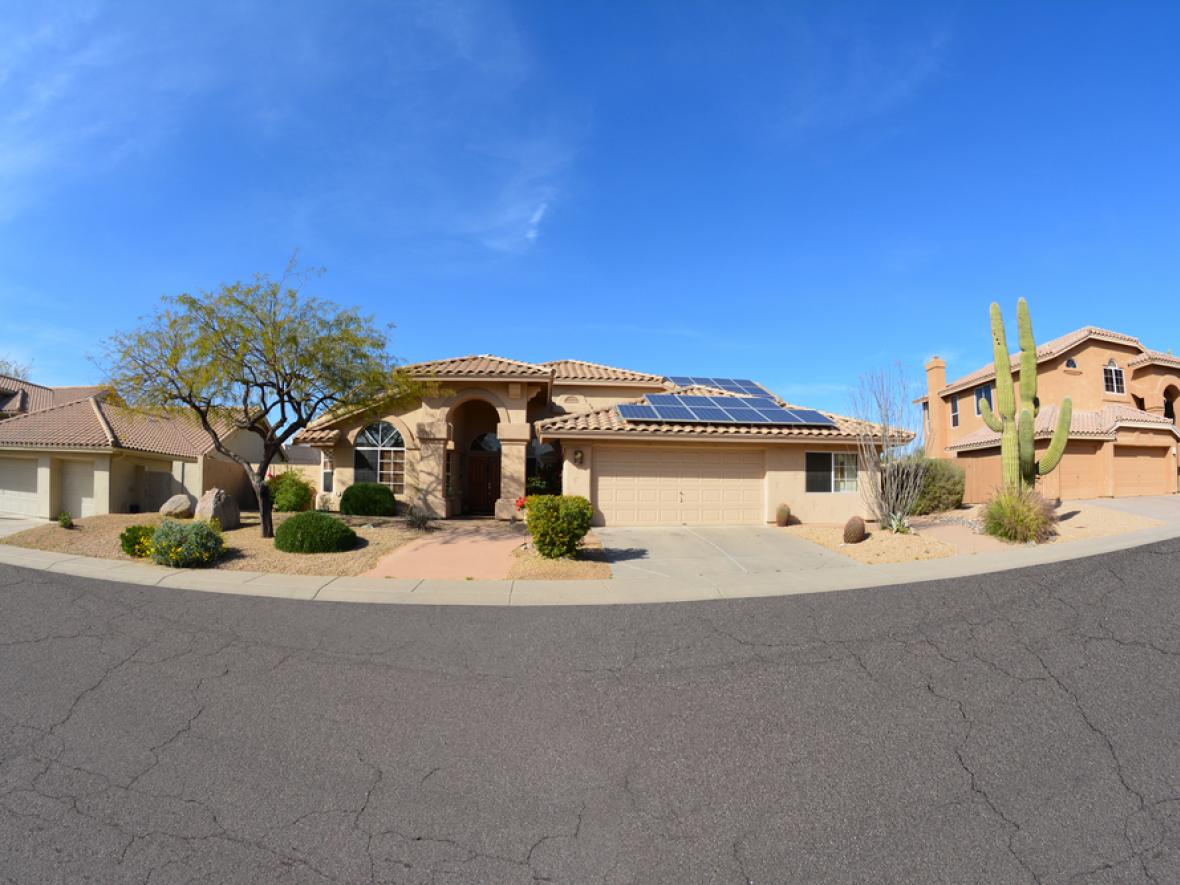 Investing in solar panels is a great way to harvest the sun's energy to power your home for decades to come. Still, many homeowners in Pinal, Pima and across Maricopa County, AZ wonder if solar panels are right for their homes. Determining whether a solar system is the right investment for your home depends on several factors.
Location, Location, Location—It Matters!
Harnessing the power of the Arizona sun with a solar photovoltaic (PV) system can cut your electricity costs and shield you from rising energy bills. You'll also reduce the amount of carbon your home uses—your carbon footprint—and likely increase your home's resale value. Arizona in general offers plenty of sunshine to convert to green energy.
Smart Solar Investment
The return on investment will depend on several factors including initial installation costs, cost of electricity, and how your panels are financed. Your Energy Solution Providers solar expert can figure the return on investment for your specific circumstances.
Solar Power Factors to Consider
Several elements will enter into your solar power discussion, including:
Local Climate
For solar panels to work, you'll need lots of sunny days. Arizona boasts sunny days 85% of of the time with an average of more than 3,800 hours per year. Compared to the national average of 2,600 hours a year, Arizona is one of the top locations for solar panel installation.
Roof Solar Orientation
Ideally, your roof should face to the south to capture the right amount of sunshine to power your home. However, if your roof doesn't face the right way, there are other options for accessing solar power, including ground mounted installations.
Roof Size
You'll need an area of about three parking spaces to accommodate the solar panels needed to meet your electric power needs. While the area should be free of obstructions, the solar installers can usually find ways to work around pipes, dormers, or other rooftop features.
Shading
Neighboring buildings, terrain, and vegetation can all affect the amount of sun and shade on your roof. Your solar system will need at least 4 hours of peak sunshine exposure to maximize the solar production. If your home is too shaded or blocked by neighboring structures, a ground mount installation may be a great solution for renewable energy.
Get Started with a Solar Assessment
If you're still not sure exactly how adding solar to your Florence AZ area home, the solar experts at Energy Solution Providers can walk you through the process with a solar power assessment for your home. With over 16 years of solar contractor experience, Energy Solution Providers is the right team to help you switch to green energy.
During your solar assessment, a solar contractor will come to your home to determine your property's solar potential. In addition to the solar power factors noted above, your average monthly energy usage, available rebates, and financing options in your area will give you a clear picture of what your custom solar system will look like.
Ready to learn more about solar on your Maricopa County AZ home? Schedule an appointment with our experienced solar installers by calling 520-868-0700 or contacting us!